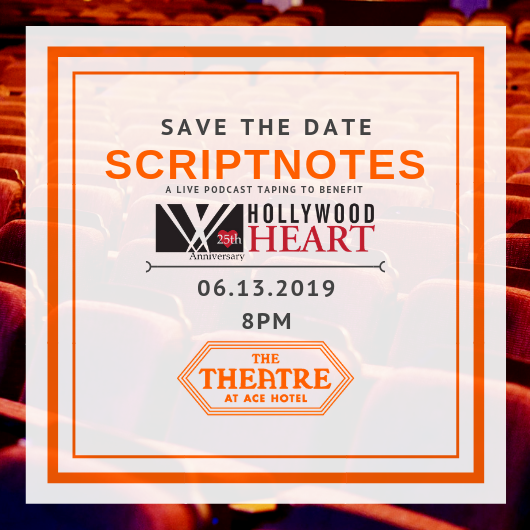 GET YOUR TICKETS
We are so excited to announce our upcoming event: SCRIPTNOTES – A Live Podcast Taping at The Theatre At The Ace Hotel, the evening of June 13th, 2019, which is kicking off Hollywood HEART's 25th Anniversary Celebration!
SCRIPTNOTES is a podcast dedicated to all things screenwriting, everything from the craft to the business to the best ways to actually get yourself writing. Hosts John August and Craig Mazin discuss the nuances of the creative process with film and television industry veterans and creative visionaries.
This year, we are delighted to hold our event at the historic Theatre at the Ace Hotel. Located in DTLA's historic core, the theatre is a restored 1920s movie palace – the modern embodiment of classic Hollywood, and the perfect venue to celebrate the arts.
Guests include Alec Berg (executive producer, "BARRY" & "Silicon Valley"), Rob McElhenney (creator/executive producer, "It's Always Sunny In Philadelphia"), Kourtney Kang (writer/producer, "How I Met Your Mother" & "Fresh Off The Boat"), Melissa McCarthy (actor/producer, Bridesmaids, Ghostbusters and The Boss) and Ben Falcone (actor/producer, Tammy, Enough Said and The Boss).
Proceeds from ticket sales support Hollywood HEART's mission to provide Hope, Education, Arts, Recreation and Teamwork to at-risk youth.
Ticket prices range from $35 – $250, and are available here. Our VIP Tickets ($250) include a premium seat and access to our exclusive after-party. They're going quickly – get yours before they sell out!
Past guest speakers included Rian Johnson (director of Star Wars: The Last Jedi, Brick, Looper), and Lisa Joy & Jonah Nolan (writers and executive producers on HBO's Westworld).
Watch this space! Guest announcements to come. And be sure to spread the word, but remember, tickets go fast!
INTERESTED IN SPONSORING THE EVENT?
We have awesome sponsorship packages available, offering a number of event perks for your company!  Find out more by clicking here.
WE ARE SO GRATEFUL TO OUR SPONSORS!