June 20, 2019
| |
Categories: Events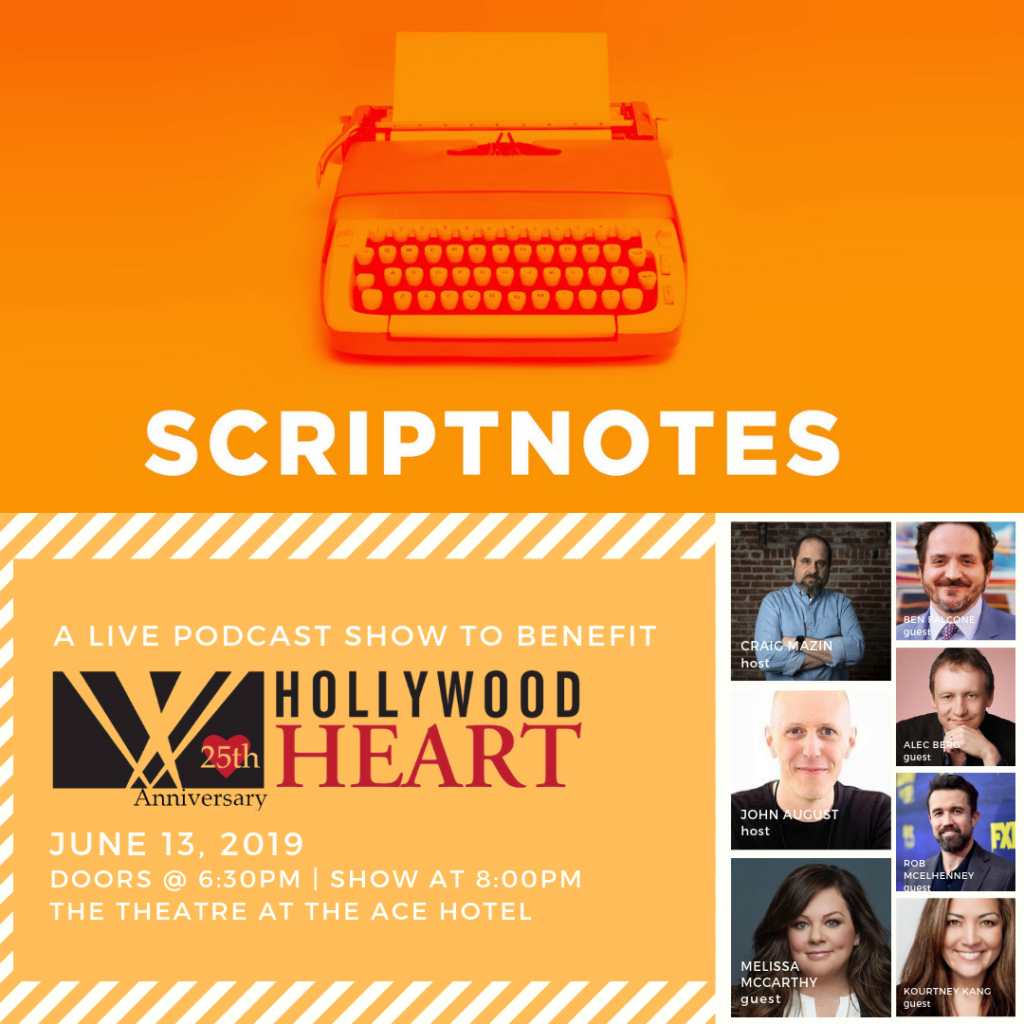 Our gratitude goes out to the SCRIPTNOTES team, our amazing guests, the Theatre At The Ace Hotel, and the incredible team that brought this event to life.
The historic Theatre at the Ace Hotel was the setting for Hollywood HEART's fourth annual SCRIPTNOTES fundraiser, another amazing night of humor, insight, screenwriting tips, and the chance to hear from some of the industry's most talented comedic writers, performers and producers.
The live show took place on June 13, where a full house of enthusiastic fans of the industry-favorite podcast, SCRIPTNOTES, was treated to a star-studded line up. Hosts John August (Go, Big Fish, Frankenweenie, Corpse Bride, Charlie and the Chocolate Factory, both Charlie's Angels movies and Disney's live action Aladdin) and Craig Mazin (The Hangover Part II and Part III, Identity Thief, The Huntsman: Winter's War and HBO's "Chernobyl") were joined on stage by  Alec Berg ("BARRY" & "Silicon Valley"), Rob McElhenney ("It's Always Sunny In Philadelphia"), Kourtney Kang ("How I Met Your Mother" & "Fresh Off The Boat"), Melissa McCarthy (Bridesmaids, Ghostbusters and The Boss) and Ben Falcone (Tammy, Enough Said and The Boss) for an evening of dialogue that covered everything from the creative process, navigating changes in broadcast formats, what actually makes comedy funny, and the truly unique relationship between an actor and the written word.
Through games, quizzes and an question and answer segment, the audience of more than 600 was able to interact with the hosts and panelists who kept the laughs rolling with a combination of wit, timing and occasional silliness.
After the show, Hollywood HEART welcomed the event's hosts, panelists and VIP ticket holders to an afterparty on the mezzanine level of the Ace, officially launching our 25th Anniversary celebration.
Built in 1927 as flagship movie palace for United Artists, The Theatre at the Ace Hotel underwent an extensive renovation in 2014 and is now a 1600-seat cathedral to the arts outfitted with a state-of-the-art digital projection system and cinema sound, ultramodern live sound system, and elaborate contemporary stage lighting system – it proved to be the perfect location for a live podcast taping!
Proceeds from the evening went to support Hollywood HEART's mission of providing Hope, Education, Arts, Recreation and Teamwork to at-risk and HIV/AIDS impacted children and teens through our annual arts-focused summer camp and year-round arts programming.
As mentioned on stage at SCRIPTNOTES, this year Hollywood HEART is taking on the logistical, fiscal and emotional challenge of hosting camp at a new location. We lost our rented campground of 25 years, Camp Hilltop in Malibu, to the Woolsey Fire last fall. Since 1995, Hollywood HEART had been honored to welcome hundreds of HIV/AIDS impacted campers to share in the treasured memories of Camp Hilltop and as that camp is being rebuilt, we are working to continue providing arts education to teens and young adults affected by HIV/AIDS at our new 2019 location in San Juan Capistrano.
We are unendingly grateful to Craig and John for their continued support of Hollywood HEART as they share their talent and time with us each year for a live SCRIPTNOTES event. They have an incredible ability to attract smart, generous writers, producers and performers to join them for the shows, and they have a skilled team of their own producers, designers and assistants to help make the evening run smoothly.
We also are so appreciative to our own dedicated and hardworking Hollywood HEART team, and the talented crew at the Theatre at the Ace Hotel, for a flawless event.
Another huge thank you goes out to the event's sponsors: HBO (Rewrite level), United Talent Agency (First Draft level) , and our three anonymous Pitch level sponsors. We also extend our sincerest gratitude to Bushley & Associates, along with Donna, Penny and Lynn for their generous contribution of our deluxe VIP gift bags.